INTENSIVE CARE UNITS - Anesthesiology and Reanimation
The critically ill patients, who were previously losing their lives due to fatal medical reasons such as sepsis (the inflammation disseminated to the body), shock, and organ deficiency, have now the chance to recover their health, thanks to the specialized care and treatment methods applied in Intensive Care Units.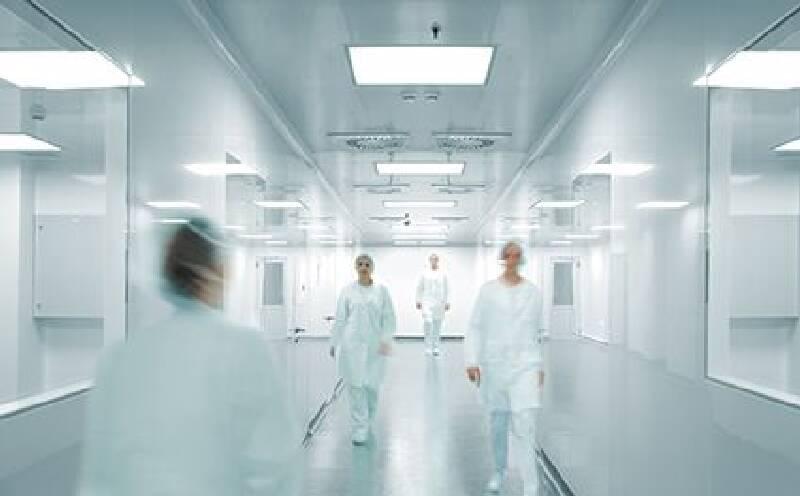 Who is the critical patient?

Subjects with extreme disorders or under threat of disorder in vital functions due to diseases or trauma are defined as critical patients. Patients with following conditions are followed up in the intensive care units:
• Heart attack, arrhythmia
• Cerebral hemorrhage
• Poisoning (toxicity)
• Serious respiratory failure
• Severe trauma
• Conditions which require close monitoring in recovery period following major operations.
In critical patients, supporting the vital functions such as respiration and circulation using advanced devices and modem treatment approaches is a common method.
The critical patients, who do not need support, but are at risk of deteriorating, are closely monitored in order to be able to immediately perform required interventions.
What is the Intensive Care Unit? It is a department which has privileges over other hospital services in terms of medical treatment and patient care, and has specially designed construction and the department is equipped with state-of-the-art medical devices and specially trained personnel. We can briefly define Intensive Care Units as "hospital inside hospital".
TOBB ETU Hospital has 4 separate intensive care units; Neonatal, Cardiovascular, Coronary and General Intensive Care Units.
Locations of intensive care units:
All of our intensive care units are gathered in block D. General Intensive Care (GIC) and Cardiovascular Surgery Intensive Care (CVSIC) Units are located on the ground floor inside a specially designed zone, at the same place with Emergency Service, Radiology, Angiography and operating theaters. Thus, immediate interventions and examinations required along with the intensive care can be performed quickly.
The Coronary Intensive Care is on the I s floor in block D. The Neonatal Intensive Care Unit is on the 2nd floor in block D and it has direct connections with Obstetrics Operating Theater and the Delivery Room.
How is the environment of the Intensive Care?
Intensive care is a very dynamic environment. There are many attendants running around and many cables, plastic tubes and medical devices surrounding the patients. The most important medical devices are the monitors which constantly display vital functions of the patients such as heart rate, blood pressure, oxygen saturation, respiratory rate, body temperature; the ventilators are used for providing artificial ventilation support when it is necessary and the perfusors are used for giving fluids and drugs.
In Intensive Care Units of the TOBB ETU Hospital, there is a hemodialysis device for renal failures in addition to standard intensive care devices.
In case of head trauma and cerebral hemorrhage, intracranial pressure can be directly measured with ICP monitor. Heart functions are supported with intraaortic balloon pump and pacemaker procedures when it is required. The intensive care patients should have several diagnostic tests. Some of them can be performed at bed-side such as direct x-ray, ultrasound, echocardiography, ECG and blood gas. For examinations such as MRI, computed tomography and angiography; patient is transferred to the related department on his/her bed accompanied by the intensive care team. All laboratory tests and imaging examinations can be performed for 24 hours.
TOBB ETU Hospital has 4 isolation rooms in addition to the standard intensive care beds in Intensive Care Units. Isolation rooms have special ventilation systems. Air pressure in the room can be adjusted according to needs of the patient and the type of the disease. In negative-pressure room environment, air flows from outside to the inside of the room. This type of pressure is applied in cases such as sepsis (the infection disseminated to the body). In positive-pressure room environment, air flows from inside to the outside of the room. The immunocompromised patients who were undergone to organ transplantation are treated in sterilized environments of these positive pressure rooms.
Who are the members of an intensive care team?
A professional team consisting of physician, nurse, physiotherapist, dietician and other auxiliary medical personnel carry out the follow-up and treatments of the patients.
TOBB ETU Hospital has established a special team consisting of anesthesiology and reanimation specialists for adult intensive cares and consisting of newborn and pediatrics specialists for neonatal intensive care. Patients are kept under control and supervision of specialists for 24 hours.
Treatments are customized for each patient using a multidisciplinary approach with contributions of all relevant specialists. Support of all required internal medical and surgical departments can be provided throughout the day. The nurse-care has an important position considering the intensive care patients. The number of our experienced nurses is sufficient to assign a single nurse to each patient.
Duties of intensive care team also cover the immediate medical intervention (such as reanimation) that can occur in any department of the hospital. For this purpose, a special emergency call system is established.
Emergency calls are made by in-hospital mobile phones and the team is able to reach to the call zone in approximately 30 seconds. In order to enable intensive care team to completely perform the required interventions, fully equipped emergency intervention stations are established at I 2 separate zones in the hospital. Devices such as defibrillator (electro-shock) and suction and all equipment and drugs required for reanimation are available in these stations.
If intensive care patient is your relative:
The underlying reason of hospitalization in the intensive care unit can be a severe disease or just the need of close monitoring. Whatsoever the reason is, the hospitalization of a relative in the intensive care unit is a very sad and stressful situation for you and your close friends/relatives. Our intensive care team will make their best effort to help you in overcoming this challenging situation.
How and from whom can I obtain information?
Obtaining reliable, fast and descriptive information regarding the patient is very important for you. Generally, information pollution occurs since all relatives try to obtain information through different channels. In order to prevent such negativities; determining of one or two people as representatives will help to arrange information flow. The family representative will regularly share with you the information received from the physician of your patient. Phone numbers of the representative will be recorded to the patient's file and they will be kept informed about all changes.
Can I visit?
Critical patients get tired quickly due to their nature. They are vulnerable to infections. For this reason, the number of visitors and the time of visits are limited. Long visits may hinder the treatment and the care of the patient.
Patients and children are not allowed to visit. Visits made in accordance with the rules would be beneficial for your patient Try to visit your patient regularly. You can visit your patient in the intensive care between the hours 10.00 n 19.00. Please ask the reception to call the intensive care unit and get the approval of the nurse when you wish to visit. You must wear a special overall shirt during and clean your hands with antiseptic solution before and after your visit to the Intensive Care Unit in order to reduce risk of infection. Turn off your cell phones. Talk to your patient even if he/she is not conscious and do not avoid from touching.
---
---