Physiotherapy / Rehabilitation
The Physiotherapy and Rehabilitation department provides diagnosis and treatment for mainly rheumatic illnesses, but also all types of musculoskeletal disorders. No surgery is carried out; when necessary patients are referred to other specialist doctors.
The specialist doctors at the Physiotherapy and Rehabilitation department provide information regarding the diagnosis and most suitable form of treatment, once they have examined and diagnosed patients. The treatment applied can be drugs, special injections, physiotherapy, and a rehabilitation program. Other health issues, the working conditions, the daily life style, the exercise, sport, and habits of the patient are taken into consideration.
Patients can be treated as out-patients or in-patients at the clinics, where they visit the hospital on a daily basis.
SERVICE AREAS / SERVICE TIMES:
Monday – Friday: 08:30 – 18:00
Saturday : 08:30 – 13:00
THE TECHNICAL OPPORTUNITIES ON OFFER AT THE DEPARTMENT:
Our hospital has a Physiotherapy and Rehabilitation polyclinic and treatment rooms located on the second floor.
External Heat Applications
Hot and Cold Packs
Paraffin
Photo (Light) Applications
Ultraviolet
Infrared
Laser
Electrotherapy
TENS
Diadynamy
Electric Stimulation
EMG Biofeedback
All types of low and mid frequency flows such as flow interferences.
Deep Heat Applications
Ultrasound (for the purpose of treatment)
Mecanotherapy
Neck Tractions
Back Tractions
Computer-based balance training device -KAT
Enables development in leg muscle strength, and helps develop a sense of position/proprioception
Are you experiencing any problems with your sense of touch? (Such as feeling or not being able to detect a change of temperature).
Do you have any foreign object located in your body such as metal, pins, prosthesis, pacemakers, etc.?
Have you suffered any health problems such as a cardiovascular disease, hypertension, a heart attack, or paralysis/stroke?
Do you have any health issues that are currently being investigated and have yet to be diagnosed?
Have you been diagnosed with any form of cancer or tumors?
Are you still recovering from an infectious illness (flu, urinary, sore, etc)?
Various Exercise Sets (weights, dumbbells, and theraband)
Manuel Applications
Mobilization
Manipulation

Back and neck pains
Arm, elbow, hand, and wrist pains (nerve compression, tennis elbow, carpal tunnel syndrome...)
Foot, ankle pains (hallux valgus, Pes planus...)
DIAGNOSED AND TREATED ILLNESSES:
Rheumatic Illnesses;
Osteoarthritis (joint arthritis)
Disc hernias (slipped disc, cervical disc hernia)
Osteoporosis (osteolysis/weak bones)
Fibromyalgia Syndrome, various muscle disorders
Rheumatoid Arthritis, rheumatoid spondylitis
Other rheumatic diseases (soft tissue rheumatism; tendinitis, torn joints and muscles...)
Rehabilitation for Neurological Disorders
Spinal injuries (paraplegia, paraparesis...)
Paralysis- Hemiplegia (hemiparesis)
Multiple Sclerosis (MS)
Parkinson Disease
Facial Paralysis
Rehabilitation for Orthopedic Disorders
Hip, knee, and other joint prosthesis
Amputee rehabilitations
Sports injuries
Torn muscles, adherence, movement restrictions of joints
Post-op rehabilitation for meniscus and ligament injuries
Post-fracture, post-sprain, post-broken
Women's Illnesses;
Pre-natal and post-natal rehabilitation
Post-mastectomy rehabilitation
Patients in other Services;
Rehabilitation post-cardiovascular surgery (coronary bypass)
Breathing exercises
Exercises and rehabilitation at the Intensive Care Unit
Rehabilitation Post-orthopedic surgery
Physiotherapy and Rehabilitation Services;
Diagnosis and treatment of all musculoskeletal disorders and all disorders that affect the mobility system.
Diagnosis and treatment of all musculoskeletal and mobility system disorder that are congenital or occur later in life, that effect the functional capacity of the individual, and lower their quality of life.
Increases the quality of life by minimizing all complaints, handicaps, and disabilities regarding the mobility system, making daily life easier, minimizing the level of dependency on other people, improving the level of independence, and supporting their careers and social lives.
After a patient visits our polyclinic, they are examined, their treatment is planned, and they are monitored periodically. If suitable for the patient, their physiotherapy, rehabilitation, exercise, or home program is determined, and they are referred to the Physiotherapy and Rehabilitation Application Unit. After the appointment and planning, physiotherapists inform the patients and start the treatment program.
Physiotherapy and Rehabilitation applications are planned as patient specific programs in accordance with their illness, the severity of their illness, and other existing health issues; the effects are monitored.
The Purpose of Physiotherapy and Rehabilitation Applications
Reduce pain, edema, and inflammation
Enable and preserve joint mobility
Gain/increase muscle strength and flexibility
Gain/increase the ability to move/function
Increase blood flow in the problematic regions of the body, and rejuvenate natural repair mechanisms.
Establish life style recommendations that are in agreement with the individual's request, living conditions, and health problems.
WARNING!
Before you begin any form of Physiotherapy and Rehabilitation please make sure you have informed your doctor of all existing health issues. Some of the issues are stated below.
FREQUENTLY ASKED QUESTIONS:
Will I become immune to physiotherapy? NO!
Does physiotherapy cause osteolysis? NO!
Can I attend physiotherapy during the winter months? YES! Adequate protection is sufficient!
Does physiotherapy make disc hernias worse? NO! The illness may progress; when new circumstances arise the patient has a check-up examination once their treatment is completed, and the results are re-evaluated.
Can physiotherapy be used to treat rheumatic diseases? YES! In certain illnesses such as infected rheumatism the chosen method and timing is extremely important.
Does physiotherapy have any side effects? There are no serious side effects with modern devices. The correct patient and the correct illness stage must be chosen. In some cases, where the treatment is not performed by experts issues such as burns may be experience.
Under what circumstances is physiotherapy not advised? Physiotherapy may cause damage if applied in circumstances where an undiagnosed illness exists; there is an infection, active cancer or suspected cancer, extensive cardiovascular disease, open sores, loss of sense and consciousness. Always provide your doctor with complete and correct medical information.
Does physiotherapy spread radiation? For some devices – YES! However, devices are still within harmless limits.
Medical Staff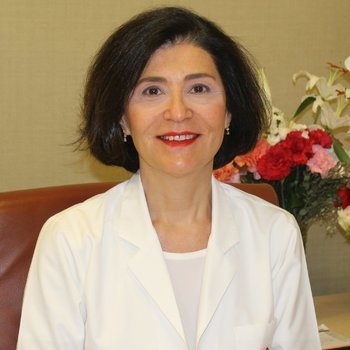 Physiotherapy / Rehabilitation and
2
more
TOBB ETU Hospital
Orthopedics and Traumatology and
47
more
---
Landline: +90 312 292 9900
Fax: +90 312 292 9910
E-mail: info@tobbetuhastanesi.com.tr

TOBB ETÜ Tıp Fakültesi Hastanesi
Yaşam Caddesi No:5 Söğütözü 06510 Ankara / Turkey
---